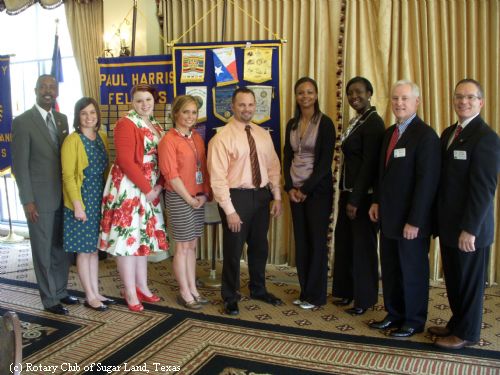 Recently, I got to leave school in the middle of the day to go to a lunch! It was crazy! Leaving! Sitting down to eat! Sitting with my principal! Sitting with important people in Sugar Land!
The Rotary Club of Sugar Land invited this years rookies of the year of the district to a luncheon. I was selected at our school (in all honesty – we didn't have hardly any other new folks), and I had to write an essay. I was pretty proud of my essay. So proud, I sent a copy to my parents, and my dad copied it and sent it to my grandma. My lovely mentor, Lauren, and my principal wrote about me as well. Lauren has a magical way with words, she made me sound pretty phenomenal. Now, they were true things, but she just made them sound incredible.
I was selected to be one of the finalists. There were three elementary finalists, and three secondary finalists. The two girls next to me were the other two elementary finalists, they were both art teachers. I thought that was pretty interesting.
We all had to speak, and it was pretty nerve racking. I talk in front of ten year old kids everyday, but they aren't adults or business leaders of our community, or strangers. One of the women talked about the fact that every year there are more and more cuts, and every year we hear things on the news, but every year there are great things happening in our classrooms. It is true. These teachers were truly impressive, they were very passionate about their job and making a difference. I loved hearing their speeches about why they wanted to teach and how amazing the support of fellow teachers has been this year. There are so many amazing teachers in the world, and they don't always get the recognition they deserve. There are many thankless tasks in teaching. I work with so many amazing people. These people are creative, compassionate, smart, and very organized. Teaching is a hard job, it takes great mental capacity, patience, organization, and a lot of time. It is the best thing I have ever done.
My first year is almost behind me. I will cherish the memories. The day at the Rotary Club will be one of them.
The article on their site can be found here. I borrowed their picture.