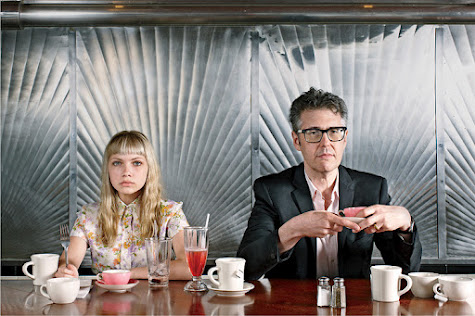 (Images of Tavi Gevinson and Ira Glass via WSJ. Magazine.)
As I was browsing through my Google Reader, I saw Simply Lovely (a lovely blog I follow) linked to a Wall Street Journal article. Before I even started reading, I immediately recognized Tavi Gevinson and Ira Glass. I was amazed that they were photographed together, and I was instantly curiously. They are not two people I would place together.
Tavi has a blog called Style Rookie that I started following a couple years ago. She started blogging when she was 13 about things she liked. She likes thrift store finds and taking her own picture. She creatively puts outfits together and really has insightful things to say. I've followed her for the past three years, so I feel a little attached. Tavi is precious, and I admire her ferocity. I love any teenager who has the courage and confidence to be themselves. Being a teenager is tough, and to do it with style is just phenomenal.
Ira is the host of This American Life. I listen to the podcast religiously, he makes the mundane sound fascinating. My entire grad school statement of purpose was about my great love for stories. Ira can tell a story, and get others to tell a story in a way very few can.
The WSJ article was wonderful, basically Ira Glass is a mentor for Tavi Gevinson. He helps her navigate an adult media world and gives her advice. As a teacher, as someone who has grown a lot, and as someone who has watched others grow, I truly believe in the power of mentorship. It is so important that we surround ourselves with positive influences and remember to be positive influences for others. Experiences is invaluable and must be shared.
Both these people fascinate me, and I have even more respect for both of them now. Opportunites to teach and be taught are everywhere.