2017
This is the 10th year of JMO and I have done a yearly recap. His can be found at jmo.me.
In the news, this year has been rough. At my home, this year has been beautiful. Our baby girl was born at the end of March. Gretta is happy and makes us all smile. Ander loves to take toys from her and give toys to her. Ander has become quite the hilarious child, at 2, he loves to recite the alphabet and sing songs. We read lots of books, go on walks, play at the park, and rock puzzles.
Staying home
I decided to stay home with the kids this year. I worked a little over a year in a school library, I know when I go back to work, that is where I want to be. This season of little ones is incredibly short. Gretta was a frequent flyer at the Children's Hospital in her first few months, that has thankfully slowed down. She's pretty good right now, but I want to be the one who goes to appointments with her. Ander is doing Mother's Day Out, it is fun pick him up and see what he is up to. He's seriously a little sponge and loves his school.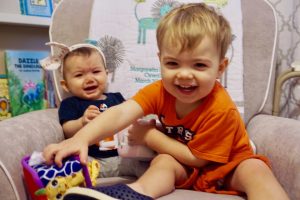 Family
My little sister graduated college this year. Being ten years older, I've gotten to watch her grow up. I'm quite proud of that girl. I gained a sister-in-law and a niece this year, its pretty awesome to have more girls on JMO's side, his mom and I were outnumbered for quite some time. I'm eager to watch our kids grow up together and am thankful for wonderful family role models for our kids. We were able to have Gretta meet her namesake (my amazing grandmother) in June. And were able to see my grandmother again over Thanksgiving when we went to my brother's. We feel very lucky in the family department.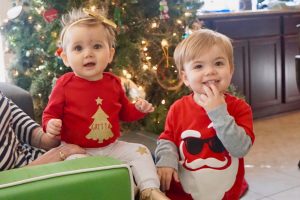 Fitness
I'm back at yoga. I love it. I don't go several times a week like I did before kids, but getting to go once a week is a treat right now. I'm running some…. mostly stopping the stroller at the park, but I gotta start back somewhere.
In 2018…
Now that I've been home a few months, I feel like I've gotten into a bit of a groove. Gretta is bigger and Ander is in need of more adventures! I've got a list of parks and museums I want to hit up in the next year. I'd like to plan ahead and go on more dates with my husband and make an effort to have more family outings. We love playing with toys at home and in our backyard, but we need a little adventure too! Maybe I'll run some more too, we'll see how the year goes.