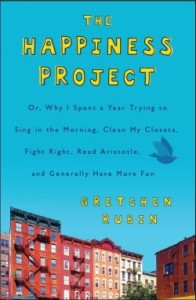 I just read Maggie Mason's recent blogpost, "20 Things I wish I'd known at 20" and it reminded me of all the key points and goals I'd made for myself when I read  The Happiness Project by Gretchen Rubin. This book took me some time to read, I read a chapter or so and made notes. I had to think on her thoughts and how they applied to my life. While reading other books, I would feel like it was time for a dose from The Happiness Project.
From the start, I was struck by her words, "What you do everyday matters more than what you do once in awhile." Somehow, I have come to be 25 years old and my life (like most) is a collection of memories of family vacations, parties, and milestones. This may be that a camera is only present at important events and thus their is only photos for reflection of milestones. So what do I do everyday? Well of course I have to read Twitter updates, check Facebook to see what all the people I'm not actually friends with are doing, and waste a good deal of time. I feel successful in my career change, and I do go to work everyday. Hanging out with kids everyday is far superior, for me, than sitting in front of a computer.
Some other gems from The Happiness Project:
Most decisions don't require research
If your not failing, you're not trying hard enough
No deposit. No return.
These lines bring up different feelings and memories. I have often been guilty of running things by my friends and relatives before making a decision. While their help is appreciated, what am I doing? Where is this fretting getting me? I could be taking action. Why aren't I? Albeit that some decisions are major and require others input, but there are many simple things that I would be far better off going with the first thing that comes to mind.  On the flip side of that, everything that I am truly proud of in my life has taken a great time investment, hard work, and sticking to who I am. NO DEPOSIT. NO RETURN. I may need to write this large somewhere. Deposit: working through the summer, Return: having the funds to buy a car.
Maggie Mason's post struck a few chords on things I want to work on in pursuit of my own happiness. #4. "When in doubt, shut up." Ummm… I do the opposite. I know that I shouldn't, but I just keep talking. I am guilty of telling people more than they should know or want to know. Her #5 ties right into that, "Don't Complain" in her explanation she says, "Maybe venting makes you feel better, but letting off steam can also lull you into maintaining the status quo."  And then, "If you're frustrated, turn that energy toward fixing your problems, not bitching about them." ACTION. I think Maggie Mason wants me to get into action. It easier to just spill out my problems. Do people perceive me as a complainer? If so, how can that be good for me or for my relationships? Her list is great. Maggie makes other points about how good I look and how I shouldn't be intimidated. It is a good reflection tool. Please, read this list and read this book (I will loan it to you if you promise to give it back).
Happiness is my goal. It can be easy to find or it can be difficult. Maybe I need to make some signs at home as reminders or write these things on my arms. It's funny how thinking of ways to make myself happier, is satisfying (thanks Gretchen Rubin!). These are goals I can reach. I can be proud of what I do everyday, what I do everyday makes me who I am.